bio
Nick Paisley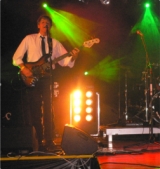 Musician

Nick with Klaus Doldinger from
legendary jazz band Passport





Nick started his early studies at the Academy of the Guitar under Don Andrews (guitar) and George Golla (bass).
He has a Bachelor of Arts with honours (Music) from the University of New England and a Diploma of Education (Secondary Music) from S.C.A.E.
Nick regularly attends jazz workshops in Germany and has taken part in jazz courses held by the Sydney
Conservatorium of Music. Nick's teachers have included Darcy Wright, Janis Laurs and John Grey.
Nick has taught music at State High Schools and bass guitar at private music schools.
In the early and mid seventies Nick played bass guitar on recordings and demo's for the Infinity label for artists such as Marcia Hines, Frank Lewis, Maureen Elkner, Simon Heath and Paul Gaffey. In the late seventies he played with the Phoenix Five with Dale Barlow, Peter O'Mara, Eathan Riak, and Jeremy Sawkins.
In 1978, Nick and Brian White founded the Sydney Rock Group " MAINSTREET"and still play under that name.
When he is not playing music Nick is a director of Danbray Pty.Ltd. the manufacturers of Aeromic products.
He is also one of the owners of International Fitness Audio Consultants, and a consultant for Fitness Audio Distributors.
You

can contact Nick

here

Mainstreet's most recent release is the CD "Child's Game".


 
           
       
           
       
          Nick's sponsors include: